Where are the Top Brewery Tours of Europe?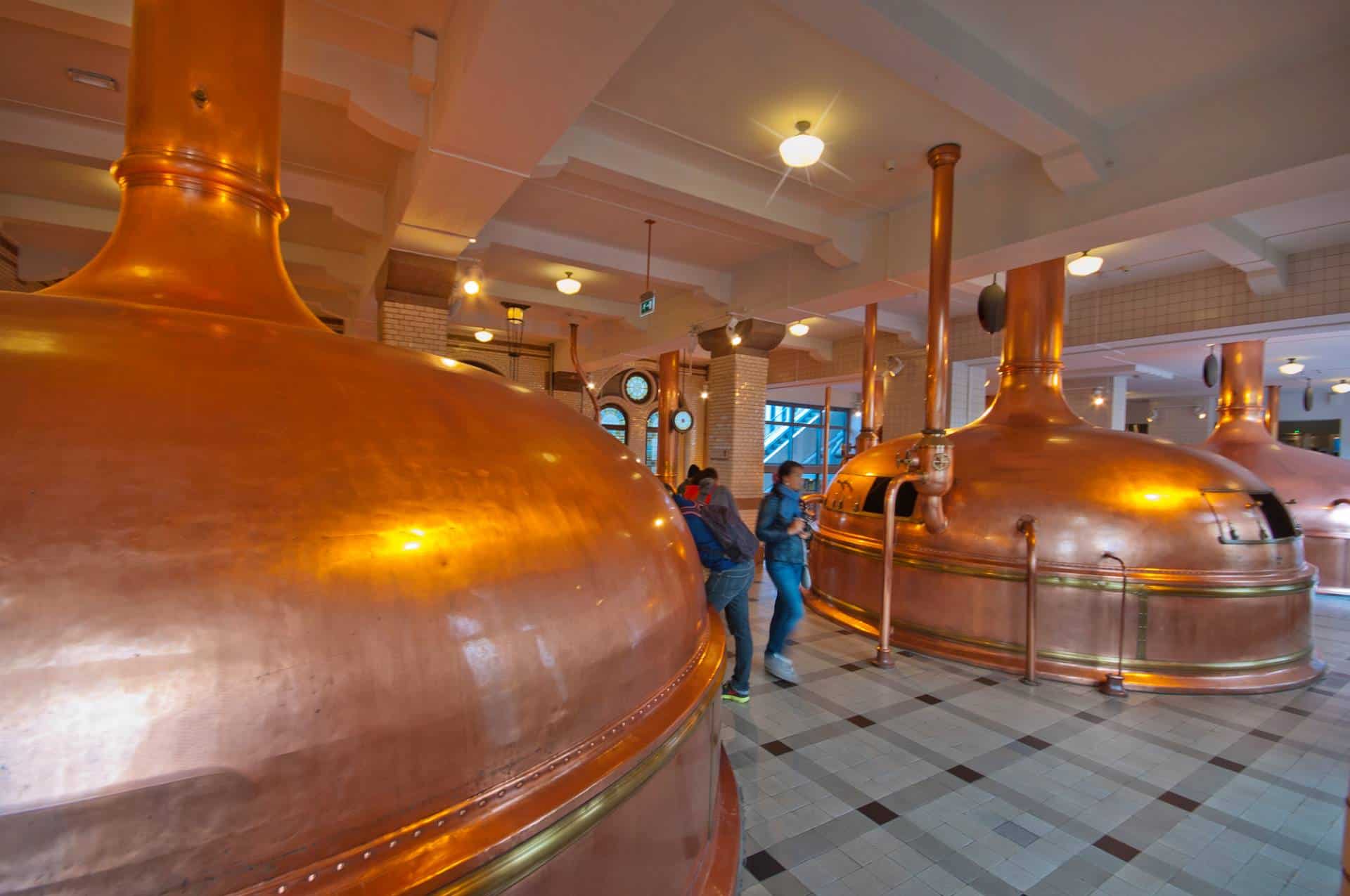 The Guinness tour is undoubtedly one of the most raved about attractions throughout the European backpacker circuit. As an essential stopover on your visit to Dublin, see first hand why this tour enjoys such a cult following and is Ireland No.1 tourist attraction. Some people would go so far as to say this tour deserves its own separate chapter, don't miss it (located at St. James Gate, Dublin 8, Ireland. Hours: open everyday Mon-Sun from 9:30am to 5pm. Telephone: (+353) 01 408 4800 or see www.guinessstorehouse.com)
The Heinekin Experience –recently reopened after extensive remodeling, this Amsterdam brewery is more high-tech than ever. Interestingly enough, the staff still have a gag order on discussing the Freddie Heineken kidnapping which occurred so many years ago (located at Stadhouderskade 78, Amsterdam; Open: Tues-Sun from 10:00 to 18:00. Price: 5 Euros includes free glass & 2 small beers. Telephone: (+31) 20 52 39 666; Website: www.heinekenexperience.nl)
Beck's Brewery -with a heritage in fine pilsner beers dating back to 1873. They offer tours in English beginning every hour after 1:30 pm from Tuesdays to Sundays (located at Am Deich 18/19, Bremen 28199 Germany. General Hours: Tue-Sat: 10:00 to 17:00 pm, Sun: 10:00 to 15:00. Telephone: (+49) 421 509 40; Website: www.becks.com
Carlsberg Brewery –newly opened as of 1999, the Carlsberg Visitors Center in Copenhagen, Denmark is a main attraction here in town. Rebuilt on the old Gamle Carlsberg production site, the earliest plant established back in 1847 by brewer J.C. Jacabsen. Make sure to sample the Elephant Beer which is twice as strong as what they sell in the USA (located slightly out of town at 11 Gamle Carlsbergvej, Valby 25000. Free Tours from Mon-Fri from 11am to 2 pm. Telephone: (+45) 33 27 13 14. Website: www.carlsberg.com or Email: [email protected])
What other Beer Breweries offer tours to the public?
No doubt about it, Europe takes its beer seriously and is proud of the results. Listed below are some selected major breweries in the beer centers of Europe that have tours available to the general public. If you feel I missed one of your favorites, check out the massive compilation of info available from www.beerme.com/breweries
Czech Beers
Budvar (Budwieser)- no stranger to controversy, this brewery has been at the center of a longstanding feud with the American Brewing Company of the same name who they allege stole their lager recipe as well as their name. Established back on April 15, 1895 as a joint stock brewery, tours are now offered daily from 9am to 4:30pm and last around 80 minutes. Price is 120 Czech Koruna. Address is Karoliny Svetle 4, Ceske Budejovice 370 21, Czech Republic. Telephone: (+420) 3877 05 341. Website: www.budvar.cz
Pilsner Urquell -visit the brewery of the classic Pilsner lager from which all others take their origins. Located in the Czech city of Plzen (where Pilsner takes its name), tours last 1 hour, cost 150 Czech Koruna, and run from April to December 10am -6pm. Note that English tours are at 12:30 pm daily between April and Sept. and 12:30 pm on weekends from October to March. Their address is: Pivovarske Muzeum- Vleslavinova 6, Plzen 301 14. Telephone/Fax (+420) 019/723 55 74. Website: www.pilsner-urquell.com
Staropramen –not as off the beaten track as the others, this brewery is actually located in the Czech capital of Prague and offers up some of the world's finest lagers. Their address is: Staropramen Visitors Center, Nadrazni 84, 150 54 Prague 5, Czech Republic. Telephone: (+420) 2 571 91 397. Email: [email protected]  Website: www.staropramen.cz
Belgian Beers-Belgium had a total of 119 breweries operation according to a survey done  in 2000
Chimay- long considered to be one of the world's finest Trappist ales. While the Abbey of Scourmont is not accessible to the public, the gardens, the cemetery, the church, and the bottling plant can be visited. Group visits year round from Tuesdays to Fridays from 9 am to 14:30 pm are possible by appointment only (min 15) and individuals are permitted only during the summer months from June 15 to September 15 at 10 am precisely. Address is Route Charlemagne, 8 ;Baileux (Chimay) 6464; Belgium. Telephone: (+32) 0 60 21 01 11. See www.chimay.be
Orval- along with Chimay, Westmalle, Westvleteren, and Rochefort it is one of the five remaining Trappist breweries still upholding the ancient traditions of beermaking in Belgium. Located in the southwestern part of the country, their address is: Orval 2, Villers-devant-Orval 6823. Telephone:(+32) 061 31 12 61. Email: [email protected]
Duvel –one of Belgiums finest. Visits permitted on Tuesday, Wednesday, or Thursday mornings or afternoons by appointment only. Tours are free, last up to 3 hours, and include a tasting. Address is: Breendonkdorp 58, Breendonk B-2870; Belgium. Telephone: (+32) 0 38 86 71 21. See www.duvel.be
Lindeman's Lambics -represent possibly some of the tastiest beers you will ever sample. Mixed with fruits such as cherries, you'll be pleasantly surprised at the outcome. Their address is: Lenniksebaan 1479; Viezenbeck 1602, Belgium. Telephone: (+32) 02569 03 90. Hours: Mon-Fri 7:30-12:30,13:30-17:00; Sat 8am-12:30. Email: [email protected] or Website: www.lindemans.be
Cantillon Brewery
English Beers
Bass Pale Ale- home of Britain's oldest working micro-brewery and located in Burton on Trent, England. Tours available Mon-Fri for 7.95 Pounds-including a pint of beer. See bass-museum.com
Young's Brewery Tours run on Tuesdays, Wednesdays, Thursdays, and Saturdays at 12pm and 2pm and last 1.5 hours. Tours begin at the Ram Brewery Tap Visitor Center, 68in Wandsworth, London SW18 4JD. Price: 5.50 Pounds Adult. Telephone: 020 8875 7005. Website: youngs.co.uk)
Newcastle Ale-
Beer Vocabulury words to know:
Lager-
Ale-
Vollbier 4% alcohol by volume
Export (5% alcohol by volume)
Bock (6% alcohol by volume-usually dark)
Doppelbock (7.5% alcohol or higher-dark and strong)
Lambic (uses wild yeast- sweet & often mixed with fruit)
Helles Bier (light beer)
Dunkel (dark beer)
Weizenbier (malted wheat beer)
Pilsner (a golden, dry style- orig. from Plsen, Czech Rep.)
Bitter-English term for ale high in hops
Porter- (English beer/very heavy, dark, & strong made with roasted, unmalted barley)
Stout- (similar to Porter-heavy, dark, & hopped up with roasted malts)
Alt ( dark/full-bodied like a stout)-actually the German word for old, it refers a top-fermented, copper colored beer of the North Rhine and Westphalia