What's the largest stadium in Europe?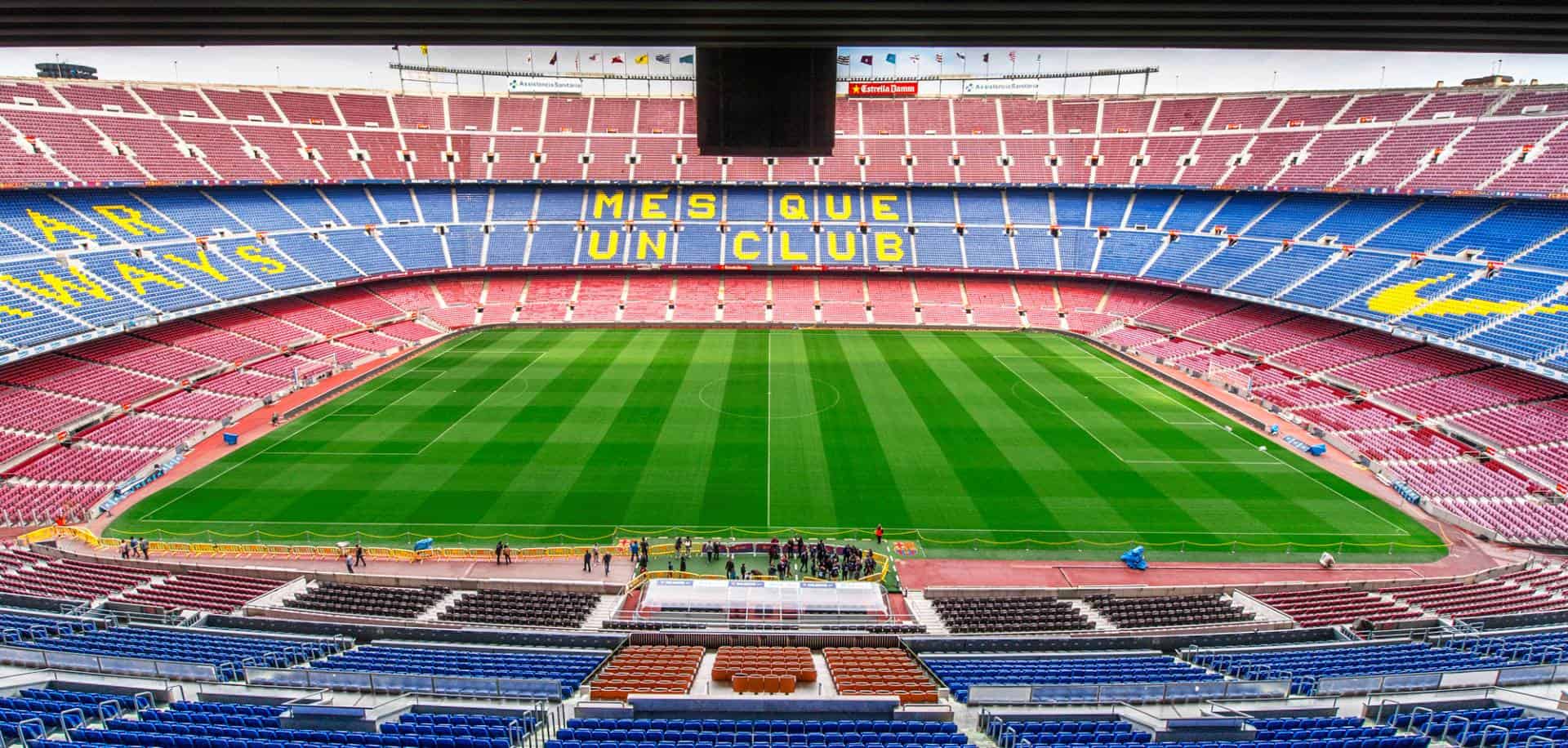 Many of you might be shocked that no stadiums are listed with capacities over 100,000 people. Surely you've run across a few stats that list stadium attendance at over 120,000 or higher. This is a bit misleading. Such numbers were products of days when crowds were crammed close together for the biggest of matches, usually standing on the terraces or in the aisles. Another reason figures vary so much is due to security restrictions, seats have been removed. For example, when the Estadio da Luz in Lisbon, Portugal was first built in 1954 and later enlarged in 1985 it could hold 120,000 plus fans. But now due to safety and reconstruction, it only has a capacity of 65,000 fully covered seats as they serve as the host for the 2004 European Soccer Championships.
Camp Nou

City: Barcelona
Max Seat: 98,000

New Wembley

City: London
Max Seat: 90,000

Stadio Giuseppe Meazza (San Siro)

City: Milan
Max Seat: 85,700

Croke Park

City: Dublin
Max Seat: 85,000

Central State Stadium

City: Kiev
Max Seat: 83,160

Stadio Olimpico

City: Rome
Max Seat: 82,307

Ataturk Olympic Stadium

City: Istanbul
Max Seat: 82,000

Luzniki Stadium

City: Moscow
Max Seat: 80,480

Stade de France

City: Paris
Max Seat: 80,000

Olympiastadion

City: Berlin
Max Seat: 76,243

Estadio Santiago Bernabeu

City: Madrid
Max Seat: 74,300
Self or guided tours 10 am to 6 pm, open everyday except event days, entrance located at Gate H, fees for self guided tour are 5.79 euros or 13.72 euros for a behind the scenes guided tour  (*note that tours in English are only at 2:30 pm) Metro line 13 to the St. Denis Porte of Paris station or take the RER to station La Plaine-Stade de France.
Many stadiums even allow for visits such as the Stade de France, see www.stadefrance.com
Should you wish to find out about a particular stadium or the soccer team that plays there, visit the website at www.stadiumguide.com.