What's the best time to visit Switzerland?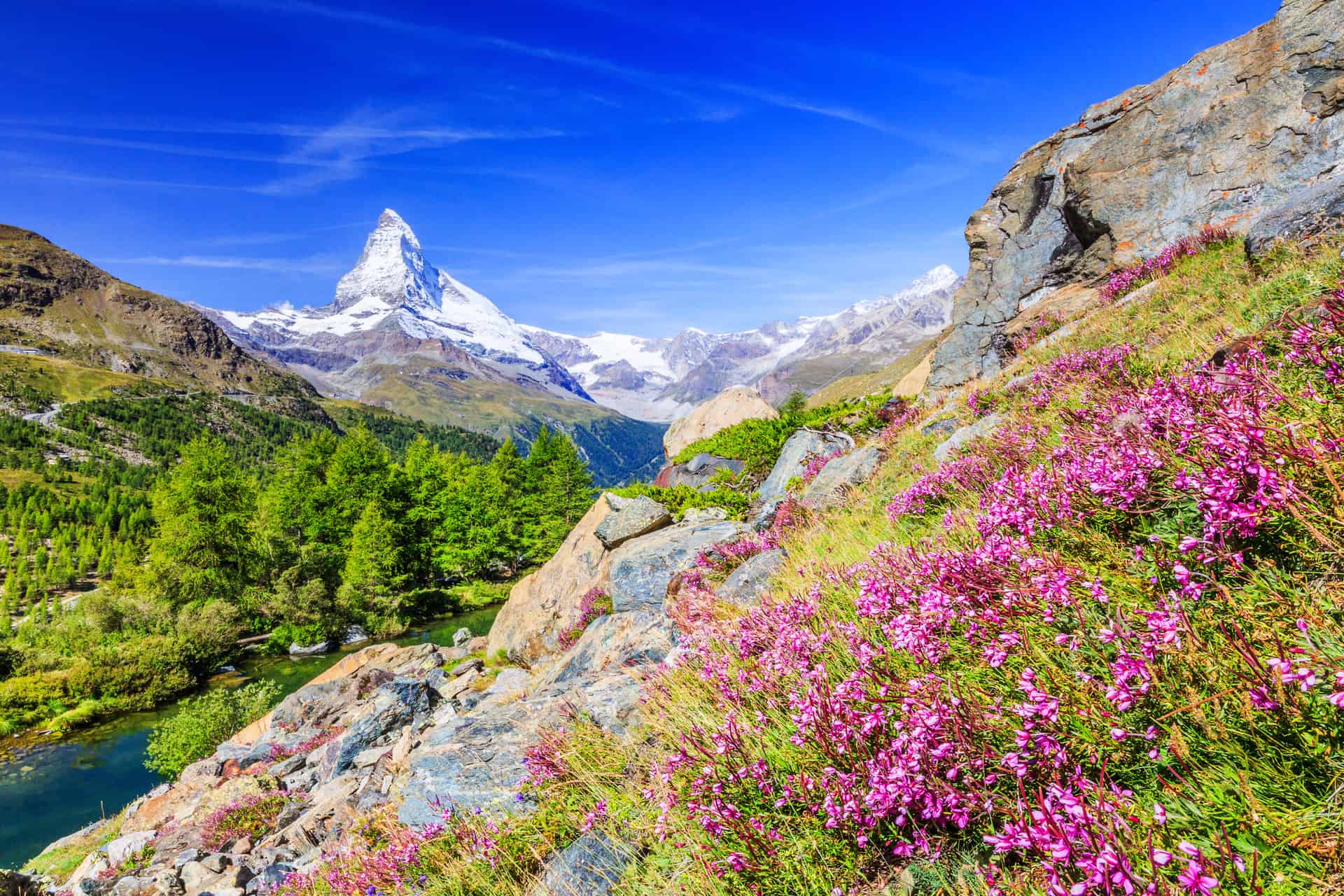 Whether you're interested in snow sports or hot summer days, there are multiple times in the year I'd recommend traveling to Switzerland. The two best times of the year are both going to be when there's fewer tourists traveling. Going during the spring/early summer (April - June) and in the early fall, (September - October) are usually the months you are unlikely to battle large crowds of tourists and relax in some of the most pleasant weather.
Here's a list of each season in Switzerland and the appeal of traveling during that time. This will allow you to see what time period works best for your interests!
Spring (March to May):

Weather: Spring is a lovely time to visit Switzerland. The weather begins to warm up, and temperatures range from 5°C to 15°C (41°F to 59°F).
Activities: This is a great time for outdoor activities like hiking, cycling, and exploring the countryside. The alpine meadows start to come alive with colorful wildflowers.

Summer (June to August):

Weather: During the summer you'll notice there are far more tourists out and about. The weather is generally warm with temperatures ranging from 15°C to 25°C (59°F to 77°F) in the lowlands. In the mountain regions, temperatures can be cooler.
Activities: Summer is perfect for outdoor adventures such as hiking, biking, water sports, and exploring charming towns. The days are long, allowing for extended outdoor activities.

Fall (September to November):

Weather: Temperatures begin to cool down, ranging from 10°C to 20°C (50°F to 68°F).
Activities: Fall is a beautiful time to visit Switzerland, especially for those who enjoy the changing foliage. It's also a good time for hiking, wine tasting, and enjoying local festivals.

Winter (December to February):

Weather: Winter is the prime time for skiing and winter sports in the Swiss Alps. Temperatures can range from -2°C to 7°C (28°F to 45°F) in the lowlands but can drop significantly in the mountains.
Activities: This is the ideal time for skiing, snowboarding, and other winter activities. Switzerland is known for its world-class ski resorts.
Always remember that the weather is constantly changing so make sure to check the weather type before your trip. Aswell understand that the mountain regions will be cooler than the lowland areas.
If you're primarily interested in winter sports, then the winter months are ideal. However, if you prefer outdoor activities in milder weather, then spring, summer, and early fall are great times to visit. Keep in mind that the high tourist season is during the summer, so popular destinations can be crowded.
Ultimately, the best time to visit Switzerland depends on your interests and what you want to experience during your trip.