What are some of the major architectural wonders and attractions across Europe?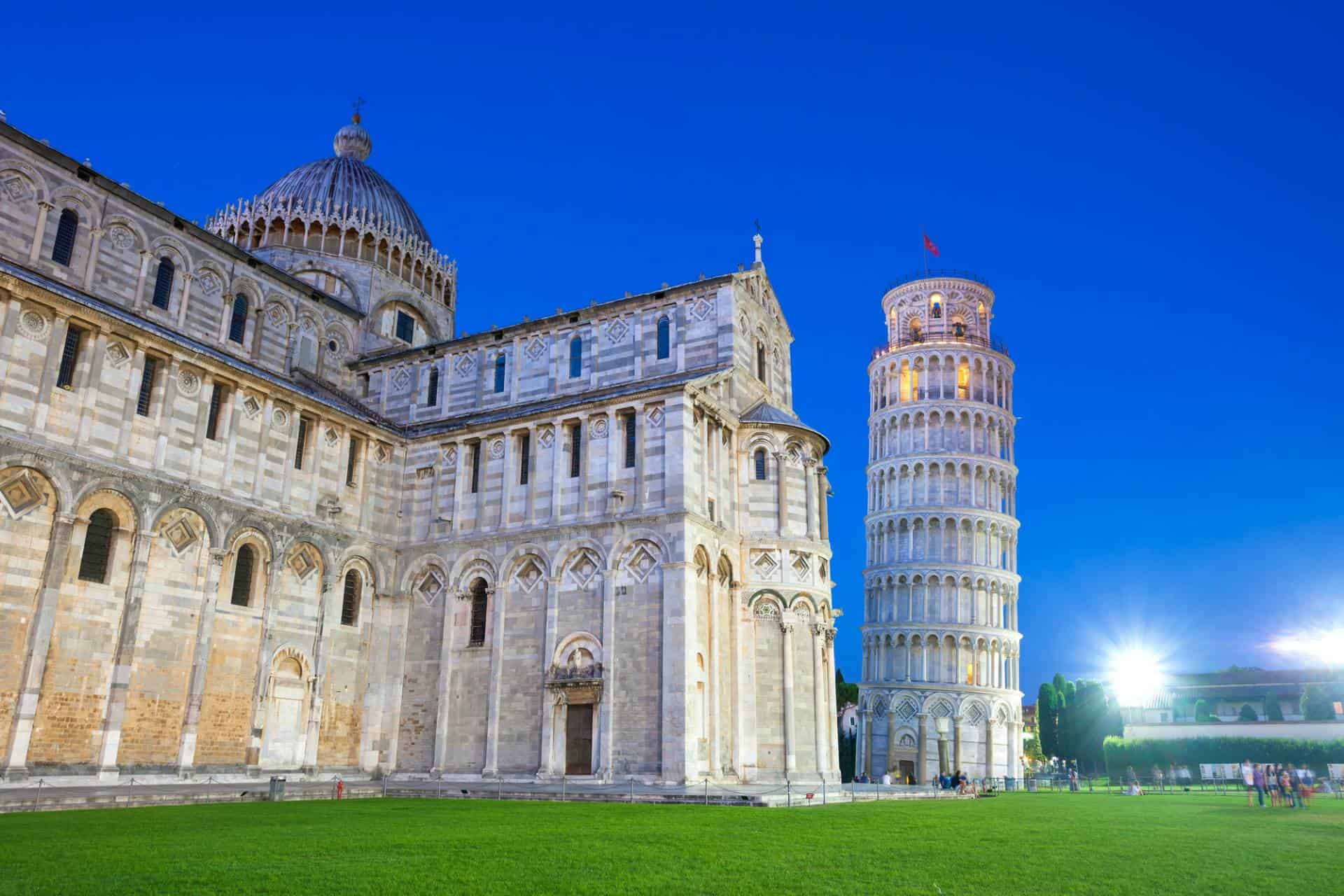 Fortunately, UNESCO has taken measures to protect Europe's great treasures for posterity and generations to come.
Some of the stand-outs include:
Eiffel Tower - Everybody knows a few basics about this extraordinary monument. It is 320 meters high, 7,000 tons of iron, 1,652 steps, now has 20,000 exterior lights built by Gustave Eiffel in 1889. Some interesting things you might not know include the fact that there have been over 400 suicide jumpers (average is 3 or 4 a year), the German flag flew atop it in May 1940, and over 2.5 million rivets went into its construction. Completed on March 31, 1889.
Leaning Tower of Pisa - First constructed to be a bell-tower for the Duomo by Bonanno Pisano, it at its peak lies just under 56m, weighs some 14,000 tons, has 294 steps, has an inclination of about 5.5 degrees to the south, stands 4.5 meters off its perpendicular, and was previously moving at a rate of 1.2 mm deviation per year before it was closed in 1990 until 2002 for restoration work on its foundation. Interestingly enough, they very well could have righted it completely, but then no one would ever visit it thereafter. After they righted it 40 cm, it should supposedly lean safely at its current angle for about another 300 years. Tickets cost 18 euros, allow for a 35-minute visit, and be booked online (strongly recommended to avoid the horrendous crowds/queues) by going to this website.
Pantheon - The Pantheon is a former Roman temple and was completed by the emperor Hadrian in 126 AD. Nowadays, it is a Catholic church. Admission free.
Rome's Imperial Forum - The Roman Forum, also known by its Latin name Forum Romanum, is a rectangular plaza surrounded by the ruins of several important government buildings from ancient Rome.
Rome's Colosseum- As one of the new seven wonders of the world, Rome's Colosseum is truly a stunning sight to see. The Flavian Amphitheater, the Colosseum, was an ancient arena that held countless gladiatorial battles and wild animal fights. Don't miss the intricate underground passageways and trap doors used as wild cards back in the gladiators' days. The ticket also includes entrance to the Roman Forum and Palatine Hill and is valid for 2 days. For a complete visit to the Colosseum, travelers can take a guided tour that includes bonus access to the dungeons and upper tiers that are usually not open to the public.
Acropolis - The Acropolis of Athens is a group of several ancient buildings located above Athens's city (the term acropolis actually means 'upper city'!). Built-in the 5th century BC, the Acropolis is of great architectural and historical significance due to its long history. We recommend visiting the site as early as possible for a smooth trip to the Acropolis, especially before the cruise ship crowds arrive. It takes about one to two hours to see the entire complex, and perhaps longer if you're taking a guided tour. One of the most important things to consider when planning a trip to the Acropolis is to be prepared for the sheer immensity of the Parthenon. Most travelers are surprised at how large the grounds actually are — and how historical it is!
Ponte du Gard - Straddling the Gardon River, this 1st Century AD Roman well-preserved stone aqueduct in Provence is just a piece of the one-time 30-mile waterway that delivered water from Uzes to Nimes near Avignon.
Arc de Triomphe - Originally commissioned in 1806 and standing 49 meters high, this monument to Napoleon's victories affords one of Paris's best views (arguably better than the view from the top of the Eiffel Tower) as the epicenter of 12 radiating avenues. At the base is the Tomb of the Unknown soldier, its flame lit nightly at 6:30 pm.
Tower of London - The Tower of London, or officially known as Her Majesty's Royal Palace and Fortress of the Tower of London, is a historic castle located on the River Thames' north bank in London. Over its history, the tower has been used as an armory, a treasury, a menagerie, the home of the Royal Mint, a public record office, and the home of the Crown Jewels of England. Nowadays, it is one of London's most popular tourist attractions.
Big Ben - A symbol of the United Kingdom, Big Ben is the nickname for the clock at the north end of Westminster's Palace in London.
The Remains of the Berlin Wall, also called the Eastside Gallery, has been preserved in a 1.3 km section and decorated with mural-paintings by 106 artists from all over the world.
Or, if you prefer shortcuts, you could save yourself thousands of euros by simply visiting the 350 most important monuments and buildings of Europe, which are all painstakingly recreated in miniature 1:25 scale located in Brussels, Belgium (best toured by night).
Mini-Europe –Bruparck, B 1020 Brussels, Belgium. Info: +32 (0)2-474 13 13. Web: www.minieurope.com/en/ or email: [email protected]. Tickets cost: adults - 13.50 euros, children under 12 - 8 Euros.
Visit Site>>